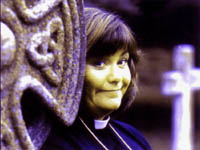 When the old Vicar of Dibley suddenly dies during a Sunday morning service the bishop appoints... can it be.... a woman vicar!
Dawn French plays Geraldine Grainger, the new vicar. She's guided (well...) by the verger, Alice Tinker (Emma Chambers) and is hated by David Horton (Gary Waldhorn).
The parish council, chaired by David Horton, also includes David's son Hugo (James Fleet), Frank Pickle (John Bluthal), Owen Nesbitt (Roger Lloyd Pack) and Jim Trott no, no, no, no... yes! (Trevor Peacock).
Liz Smith appeared in the first series as Letitia Cropley, famous for her parsnip brownies and herring cake... and much.... much more!